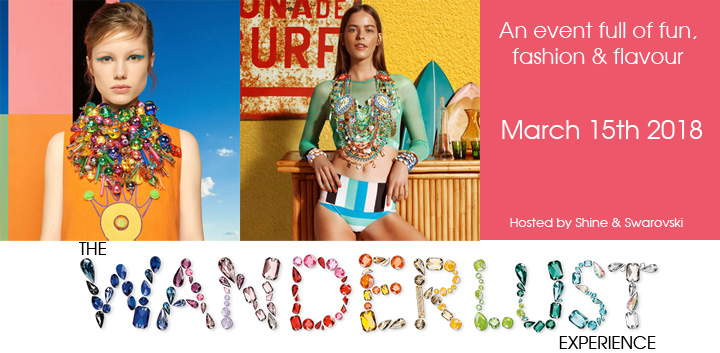 Events
The Wanderlust Experience
The Wanderlust Experience was a night of sparking drinks and tasty treats that celebrated the appointment of Shine as the authorised wholesaler of Swarovski crystals across Australia and New Zealand. It provided a playful and euphoric experience for the who's who of the victorian costume making community as well as many of our most valued Shine clients.
The event embraced the Swarovski conceptual topics for 2018 of Freedom, Adventure, Culture & Leisure and set the attendees on a virtual journey to four completely transformed spaces around the Shine Port Melbourne premise. This journey and it's sub concepts all culminated in an overarching statement with that being 'The Wanderlust Experience'. The event was a great success for the Shine and Swarovski partnership with all attendees enjoying themselves on the night and loving the Shine/Swarovski goody bags that were provided to all.
Shine Trimmings & Fabrics will continue to support our aligned organisations and communities within the creative industries through the creation and hosting of periodic promotional events.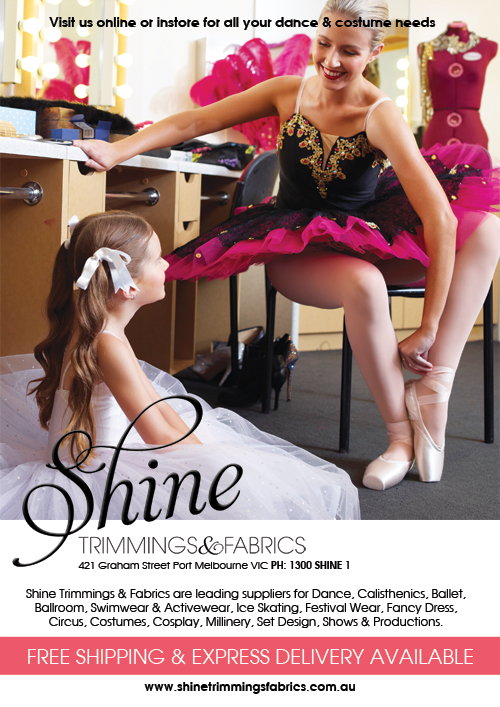 Print Media
Print advertisements
A full page print advertisement representing Shine Trimmings & Fabrics was placed in the Theatrical Dance Festival programme that took place on 30th June 2018. Just one of the many opportunities that Shine chooses to advertise within and thus supporting the wider community.
This is a typical example of Shine partnering with our aligned organisations for the benefit of all parties concerned through the medium of print media. Shine attempts to regularly support events and organisations within our broader community including dance, calisthenics, theatre & fashion organisations. We do this in a variety of ways which also include print advertising. Advertising space we may purchase includes but is not limited to catalogues, sponsorship deals, special events and targeted discounts for community groups.
Shine will continue to look for different ways and means to support our community whether it be though buying print media space or otherwise. We recognise that the financial benefits obtained from partnering community groups can be enormously enabling at a grass roots level and also appreciate the brand awareness and sales that it may generate Shine throughout the duration of the promotional event.
Be sure to look out for Shine Trimmings & Fabrics print media advertisements in your local competition catalogue and/or newsletter and don't be surprised if you find us in there. We shall continue to support our wider community through advertising via the various channels that are available.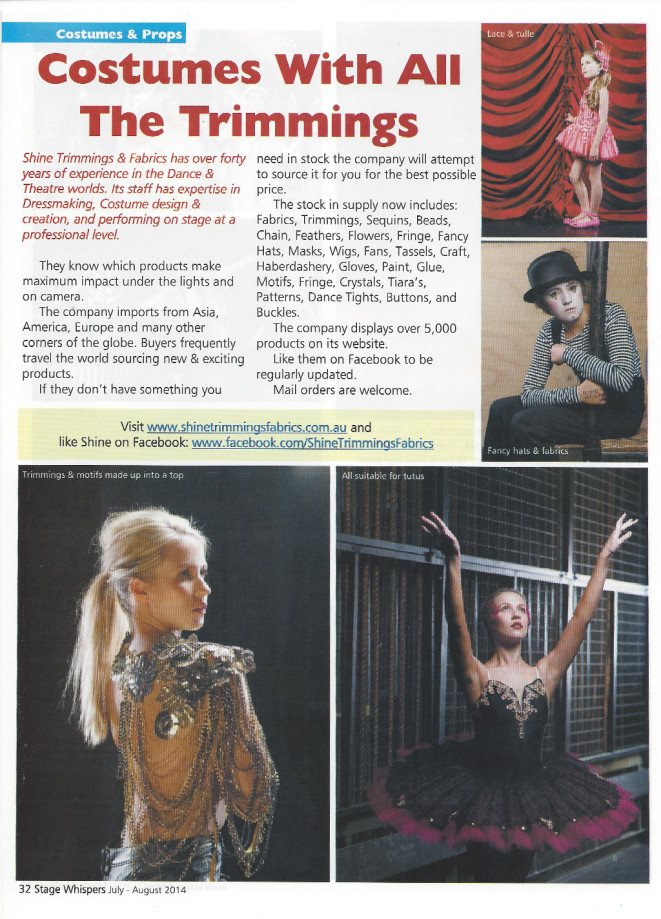 Print articles
An early and retrospective Shine Trimmings & Fabrics print advertisement placed in (Stage Whispers Magazine) that is fantastic to remind us of what we set out to accomplish when Shine was first created. The images were photographed in and around the stage at Crown casino in front of the tremendous red stage curtains. It shows the connection between Shine and the world of performance whether it be theatre, dance, fashion or any form of performance artistry for that matter.
The Stage Whispers Magazine a once printed but now digital magazine that supports all things stage by providing relevant reviews, directories, jobs listings other community information featured Shine Trimmings & Fabrics in its August 2014 edition.
The encompassing article provides a complete snap shot of Shine including our level of involvement within the industry, our staff expertise & history in the performance art sector. It summarises our products as well as summarising our international stockists which span Europe, Japan, Asia and America.
Multi Media
Television Commercial
A short video commercial (duration 45 seconds) that was produced in-conjunction with the Big Screen TV team as part of a Shine broad marketing campaign aimed at the television audience. The video showcases the Shine Trimmings & Fabrics retail store located at 421 Graham Street, Port Melbourne along with a selected range of the thousands of fabrics & trimmings that are on offer within it.
Although the video is no longer utilised in current marketing campaigns it has captured the colours, diversity and vibrancy of the Shine store and its overall brand splendidly.