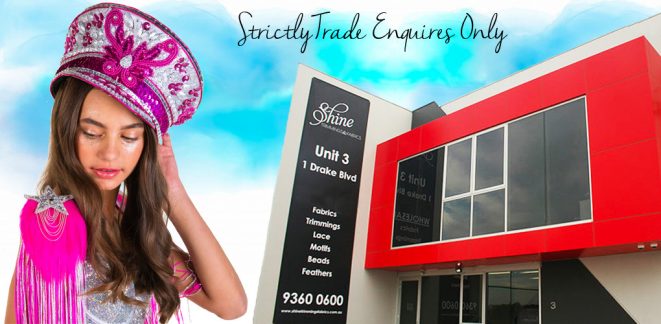 Shine Trimmings & Fabrics Pty Ltd import fine and quality fabrics and trimmings from around the globe and have a full wholesale division located at our warehouse at Unit 3, 1 Drake Boulevard, Altona, VIC 3018 Australia. We offer most of our range of fabrics, trimmings and accessories for sale at wholesale prices to pre-qualified customers only across Australia and beyond.
Are you an established and bonafide retailer and/or manufacturer looking for a wholesaler of quality fabric and trimmings?
If you are, we welcome you to submit a wholesale customer application form with us to become a registered wholesale customer. Should your application be successful you will be provided with online access to browse and purchase fabrics and trimmings on our wholesale website as well as access to wholesale services on offer located at our Altona warehouse.
Wholesale sales have a minimum order quantity and goods must be purchased by the roll, card or packet.
Should you need smaller quantities they can be purchased from our Port Melbourne retail store at retail prices.
Due to the nature of wholesale accounts no prices or further information can or will be provided to interested parties whom are not registered wholesale customers with us.
General trade enquires can be answered by contacting the Shine wholesale team on (03) 9360 0600 or by email at wholesale@shinetrimmingsfabrics.com.au
You can SUBMIT AN APPLICATION to become a Shine wholesale customer here.
Please note: All wholesale applications are carefully processed and approval is only given to established and bonafide retailers and/or manufacturers aligned with the fabrics and trimmings industry.