The Shine Learning Studio
The Shine Learning Studio is a learning space for hire that can accomodate training classes in a professionally fitted out learning environment suitable for costume and dressmaking aligned workshops and courses. Complete with reception facilities, presentation tools, facilitator and student desks and fabrics and haberdasheries on display.
Professionally fitted out learning environment
Reception facility and services available
White boards
Facilitator and student desks and chairs
Facilitator storage units
Kitchen and tea/coffee making facilities
The Shine learning studio is conveniently located in an upstairs studio space at the Shine Wholesale premise at 3/1 Drake Boulevard, Altona Victoria.
Availability: The Shine Learning Studio is available Monday – Friday 8:00AM – 6:00PM. Simply place your booking via our online calendar to reserve your required dates.
Cost to hire:
Weekday Half Day: $250
Weekday Full Day: $450
Saturday rate: $600
Sunday rate: $750
Location: Unit 3, 1 Drake Boulevard, Altona, VIC 3018
Parking: Shine have 13 allocated off street parking places available for use at the front of the building.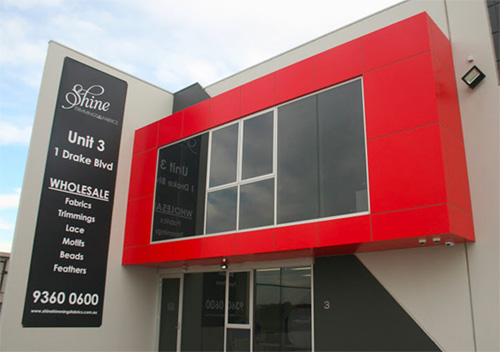 Terms and conditions:
Legal Liability: Hirer's must hold appropriate liability and any other applicable insurance cover. The Hirer accepts full responsibility and liability for any damages arising from the Hirer's use of the Shine Learning Studio's premises, including but not limited to, personal injury and facility or equipment damage. Shine Trimmings & Fabrics does not accept any liability for any valuables held at the premises belonging to the Hirer or for any loss or damage to the equipment or personal effects of the Hirer or the Hirer's associates.
Payment: Full payment is required 5 working days prior to studio hire, to secure your booking. Payment can be made by either
EFT: Bank – Commonwealth Bank
Account Name: Shine Trimmings & Fabrics
BSB: 063 779
Account Number: 10107288
CREDIT CARD: Please contact Shine HQ on 03 9646 0072 to make a credit card payment
Access: Access can only be obtained between the hours of 9AM – 5PM Monday – Friday
Cleaning: All areas used by the Hirer must be kept clean & tidy at all times. If studio requires cleaning after Hirer's use, the Hirer will be charged a $60 cleaning fee.
Cancellation: Notification of cancellation must be received 48 hours prior to booking for full refund. No refund is possible if less than 48 hours notice.
Studio Condition: Hirer's are advised that our studio & offices are working offices and as such, the condition of the studio depends on current frequency of use. Every attempt will be made to ensure the studio and facilities are clean and fit for use by the Hirer, however potential Hirer's are encouraged to visit the premises prior to booking to inspect the space and ensure it is suitable for your needs. Should there be any issues with the studio, Hirer's should advise management immediately for appropriate action to be taken at the time.
By agreeing to the above terms and conditions I hereby authorise Shine Trimmings and Fabrics to charge me for the services detailed above and any other additional services used on the day of hire. I declare that all the information provided on this booking form is accurate and I agree to abide by the Terms & Conditions as set out above. Hirers are expected to return equipment and furniture to their normal position and leave the studio exactly as it was found. A reset and cleaning may apply.

Need more information? Simply contact Shine HQ on (03) 9646 0072 during business hours