Aston Droomer is an extremely talented young man.  Dancer, Model, Actor & Singer, he has done it all.  Whether in front of a camera or performing on stage he know's how to captivate his audience. I'm thrilled to have been given the opportunity to interview Aston for a moment with…. and learn what it takes to be successful in any genre you choose to follow.  I hope this interview inspires you too.
Securing the role of Ezra Banks on "The InBESTigators must have been an exciting moment for you. What type of audition process did you have to go through to secure the role?
I was invited to audition through my agent Emma Raciti by Nathan Lloyd casting agent for the role of Ezra Banks. I was given a script to learn before hand. There were three rounds of auditions before I was able to secure the role of Ezra. The final process of audition was a chemistry test with the other 3 leads to see if we all had the right chemistry to work together. When I found out I was very excited and it all felt surreal. This is something I had never done before so I had a lot of questions for mum and Emma.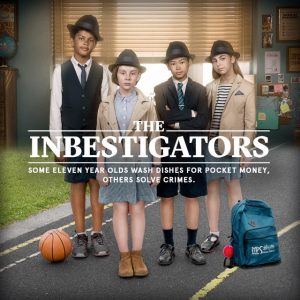 Describe the character of Ezra?
Ezra likes his clothes to be clean, his hair to be neat and his belongings to be organised. Ezra craves order which is not to say he's not hungry for adventure, he totally is, just as long as it doesn't involve heights and dogs, laser tag, paintball, any rowdy activity with other kids, balls, bats, racquets , actually any sport at all. While some things may scare him, Ezra is fearless with his ideas. His analytical mind has made him the go-to Tech Support for everyone he knows; not only can he sort out people's software bugs, he can write code and build websites. Ezra's also has got a head for commerce and is a self-described blue sky thinker. Convinced that his talents are being wasted on the grade five curriculum, he's thrilled when he meets Maudie and she agrees to starting the Detective Agency. Ezra has at last found a home for his unique skill set and disposition. More importantly, he's at last found a un-rowdy activity that he can do with other kids.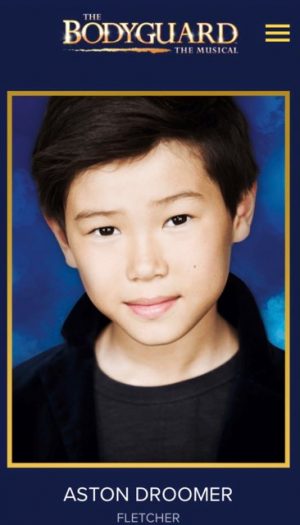 How did you get started in this industry? How old were you when your professional career commenced? What was your first major job?
I started dancing at the at of 18 months and professionally trained from the age of 4 at The May Downs School of Dance under the supervision of the school principal Miss Renie Ann Martini. My first professional career started at the age of 6. I was cast as a young prince in "The King and I" the musical. From there I did numerous TV commercials and modelling jobs. I have worked with Opera Australia in Carman. I was also cast to play Fletcher in "The Bodyguard" the musical for the Melbourne season.
What was your daily routine during filming of "The inBESTigators"?
My daily routine during filming was getting picked up by a personal driver as early as 5.50am in the morning, still dressed in my PJs, hair and make up was done on set, breakfast with all the cast and crew, a quick chat to the drama coach before filming started and then driven home at the end of the day. Usually if I have an early morning pick up, it would mean I was home early. If I had a late pick up it would mean I had a late finish. Line schedules would be sent to me and mum every Friday so that we would plan ahead of when would be a good day/time to fit in learning lines for the next week. It was hard work and an intense time but all worth it now that I see it has all come together.
Did you continue with studies at school during filming?
Yes, I had to take leave of absence from my school for 6 months during filming. During this time I had a private tutor on set to help me keep up with my school work.
Will "The InBESTigators" be shown just in Australia or globally?
I have been told it will be shown will be shown in Australia on ABC Me and then on Netflix in 156 countries internationally. internationally.
Do you learn any instruments?
I did start playing the guitar but with all my dancing commitments and filming the InBestigators I had to stop my guitar lessons. I am in grade 6 this year and hopefully I will starting learning guitar again in year 7.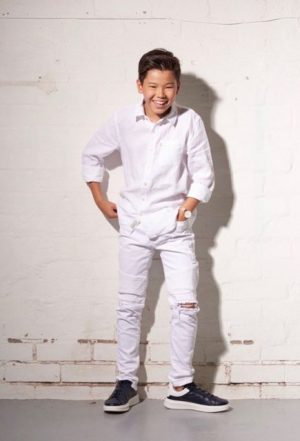 Besides Dancing and Acting, do you learn anything else?
Yes, I learn musical theatre, singing and acrobatics.
You have been extremely successful in the past performing on stage in Musicals, in TVC's and on the runway for Fashion week. You are extremely multi talented. What genre have you enjoyed the most in your professional career?
I enjoy dancing the most. I am learning Tap, Jazz, Ballet, Contemporary and Hip Hop. I love Tap and Hip Hop but my dance teacher Miss Renie tells me that I would not make an amazing dancer without Ballet. Dancing makes me feel alive and free. I love performing on stage but I also have loved being in front of the camera. When I perform on stage in Musical Theatre it is very different from performing in front of a camera. I enjoy both the same and also in different ways.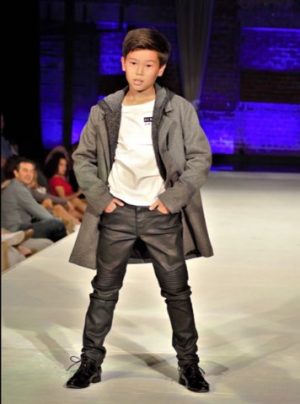 I hear you love fashion. What is your favourite style?
I love all men's fashion from active wear to casual wear to formal wear. I do love shoes! My favourite style is smart casual. My mum and sisters are my biggest fashion influencers. Growing up with three females in the house I have learnt to love clothes and fashion has become part of our everyday life for our family. Even my dad loves fashion. As a baby mum always dressed me up. I feel very lucky that I have been taught by my mum to have a good sense of style.
What do you enjoy doing in your spare time? What are your hobbies? Do you have any special talents?
In my spare time I love spending it with my family and friends. I love going dirt bike riding with my dad and we also do a lot of road bike riding around our local parks and reserves. My favourite hobby is drawing. Doing art relaxes me and I feel happy. My special talent is I can move both of my ears up and down.
You have achieved an incredible amount already at such a young age, what goals would you still like to accomplish?
I love dancing and performing. I hope that I can keep doing what I love. My goals are to become a person that people inspire to be and I would like to influence people to be humble and kind not just to others but to themselves. I have a strong compassion towards homeless people and I hope one day I am in a position to be able to help young homeless children achieve their dreams. If I become an aspired actor in my later years I would like to be a good role model.
What advice would you give to other children who want to become an actor, dancer or performer?
My advice is to keep working hard and never give up. You must be persistent. You are going to have days that you think that you are not good enough but you have to keep believing in yourself that you are good enough and that everyone is good enough to do what ever that want. Everyone can achieve if they believe.
The InBESTigators commences on Friday 21st June on ABC Me at 5pm. It will run everyday at 5pm for 15 minute episodes as well as on Sunday mornings at 9.30am for 30 minute episodes.
Aston Doomer's Instagram: https://www.instagram.com/astondroomer/